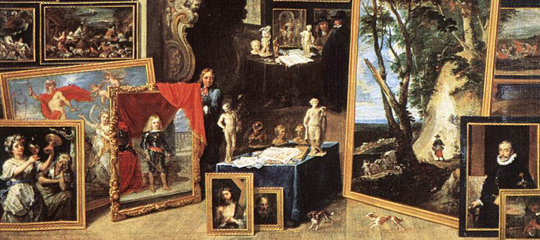 There is no denying the fact that web is gradually becoming a graphical rather than textual medium. Indeed, "a picture is worth a thousand words" and following this proverb more and more websites and blogs are becoming abundant in images, photos, pictures etc. The thing is that no matter how much useful information your website may contain, it won't be appealing unless it has some eye-catching images. Moreover, the visual component has even become a matter of courtesy that makes images an indispensable part of any successful project.
Consequently, the sphere of web design for its part is also making headway, offering a wide range of solutions to the problem of displaying as many pictures as possible. Nowadays it is not a problem whether to make your picture slide or pop-up on the screen, with its background darkened to the appropriate degree of transparency or without darkening effect at all etc. Of course, you may have some other needs, nevertheless, the final aim will remain the same – to present your images as successfully as possible with the least possible trouble involved.
In this respect, WordPress offers a great choice of gallery plugins for your website to meet your most sophisticated needs. Here you'll find a review of three most popular gallery plugins: NextGen Gallery by photocrati, Fancy Gallery by Dennis Hope and Gallery by BestWebSoft. All of them are easy-to-use, functional and compatible with the latest version of WordPress.
NextGen Gallery
Undoubtedly, this plugin with its more than 9 million downloads appears to be the most popular one, finding its honourable place in almost every top-5. Still, according to the WordPress community it's average rating makes up 3.9 out of 5 points.
Pros:
rather easy and clear to use via admin panel;
you can create galleries with unlimited number of albums;
you can edit the complete gallery;

you can edit individual images (adding watermarks, re-sizing etc);

you can edit the slider effects (slideshow size, transition style, speed, image order, and optional navigation bar);

free.
Cons:
it can sometimes break down when you update it or when you update WordPress to a newer version;

it is a kind of mainstream.
Summary:
With its great variety of outstanding features, this  plugin is a very powerful piece of software on the one hand, providing a powerful engine for uploading and managing galleries of images, editing and effecting them, and a rather complex one on the other. Moreover, its excessive popularity has played a low-down trick on it, shutting your site from a drop of originality.
Fancy Gallery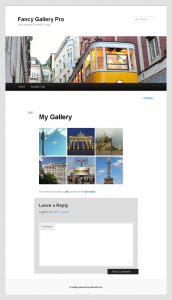 It's another popular, functional and usable gallery plugin, developed by Dennis Hoppe, having more than 110,000 downloads on its account. According to the WordPress community it's average rating makes up 3.9 out of 5 points.
Pros:
easy-to-use;

auto-thumbnails;supports different types of media like images, videos (mov), YouTube and Vimeo videos and websites;

responsive;

you can choose between 2 different lightboxes – PrettyPhoto or FancyBox;

you can create galleries with unlimited number of albums;

user-friendly AJAX-based admin area;

HTML-Generator to use galleries on external sites;

widget-ready;

integrates social buttons;

highly customizable with options;

stunning hover effects.
Cons:
the look for the gallery on the post/page might not suit every theme.
Summary:
On the whole, Fancy Gallery is a powerful freshly-looking opponent of the good old NextGen Gallery. If the media on your site is exceptional – this plugin will be a good choice. It offers a wonderful preview of images, preventing the viewer from downloading them. Responsiveness is another advantage over the first contestant. All in all, Fancy Gallery is a nice plugin to use, once you are ready to come down with 21$ on a regular license of a pro version.
Gallery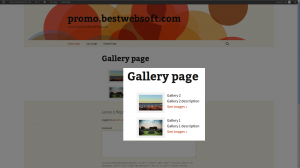 Gallery plugin by BestWebSoft with its about half a million downloads allows you to implement as many beautiful galleries as you want throughout your site. According to the WordPress community it's average rating makes up 4.4 out of 5 points. The possibilities of this plugin will undoubtedly meet the needs of the most demanding client.
Pros:
you can create any amount of albums in the gallery;

you can add description to each album;

you can set a featured image as an album cover;

you can upload any number of photos to each album in the gallery;

you can add Single Gallery to your page or post using a shortcode;

you can attachment sorting settings in the admin panel;

you can add a caption to each photo in the album;

you can change the size of album cover thumbnails and photos in the album;

you can choose a number of pictures to display in one row in the gallery album;

you can view pictures as a slide show and in a full size;

you can upload HQ images.
Cons:
not enough responsive (iPhone, IE8).
Summary:
Indeed, with its wide range of useful features and free download, Gallery appears to be a worthy alternative to both hackneyed NextGen Gallery and exquisite paid version of Fancy Gallery. Moreover, BestWebSoft doesn't only offer constant updates of the given plugin, but also a paid pro version, containing much more options.
All in all, finding the best gallery plugin at a greater extent depends on a user's personal likes and needs. The given article is just a help for you to see into a large scope of available plugins and it is up to you to decide which one suits you best.